Rentals & FAQs
Our main/ most popular rentals options are listed below, however we do have other options available such as sit inside kayaks upon request. If you would like a sit inside kayak instead of a sit on top, please let us know when you make your reservation!!
Perception Tribe 11.5


Single 11.5 ft
Weight limit: 280lbs
Perception Tribe 9.5

Single 9.5 ft
Weight limit: 250lbs
Perception Tribe 13.5 Tandem

Tandem 13.5 ft
Weight limit: 450lbs
FREQUENTLY ASKED QUESTIONS
Q. Where should I park?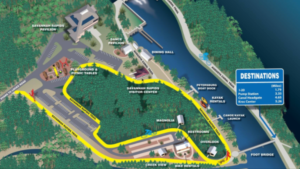 A. Park anywhere inside the park and walk down the one-way paved road that runs along side the canal. Feel free to drive down the one way (access this by the visitor center) to drop people or anything else you might need off before parking your car in one of the parking areas. There are no bathrooms at our precise business location so make sure you use one of the bathrooms in the parking areas (there are bathrooms above the bike shop, under the dance pavilion, and in the visitor center) before walking down to our location!
Q. What should I wear?
A. Workout clothing, swimwear, or pretty much anything you don't mind getting a little wet and possibly dirty. Same with shoes, either tennis shoes you don't mind getting wet or dirty or flip flops, sandals, or water shoes. Keep in mind that it's Georgia and it's most likely going to be hot. Long, heavy garments can weigh you down and make it hard to move your limbs in the water if you do happen to fall in, so we strongly advise against any long or heavy garments that could restrict your movement in the water. We assist you into the water so it's incredibly easy to wear shoes that are easy to kick off and throw into your boat so you have them at the end point.
Q. Is there a minimum age requirement?
A. No, it's 100% at the parents discretion. We have had as young as a 9 month old in a tandem with both parents, and as young as a six year old complete the route alone in a single Kayak. Please note that a parent/ guardian must sign a waiver for anyone under the age of 18 in accordance with Georgia Law governing who/at what age a person can legally express consent for themselves.
Q. Do we rent Kayaks that seat more than two people?
A. The short answer is no, we only have single and tandem (two person) Kayaks. With that being said, if you have a toddler or younger child they can definitely ride with you on your lap or in the front of a bigger single. A smaller kid, up to 5 years old or so, can also fit comfortably between two people in the tandem, however there is not an actually seat with back support for them there. The singles hold up to 280 lbs and the tandems hold up to 450 lbs, but please be aware that the more weight you add into the Kayaks the less stable they become.
Q. Are coolers allowed?
Small to medium sized coolers are perfectly fine, as well as bags. We do not allow large coolers, not only are the unnecessary for a trip down the canal but they don't fit well in the kayak with you and they add a significant amount of extra weight, which makes the kayak much less stable and increases the likelihood of flipping your kayak substantially.
Q. Do we rent canoes?
A. We have only 2 canoes and quite honestly, we don't like to rent them out to people who have never paddled before. Our kayaks are much more stable and also provide back support, which canoes lack. We understand that some people prefer canoes over Kayaks and we rent them out at the same rate as a tandem kayak, we just want to ensure that our new patrons are aware that canoes are much less stable than the Kayaks we carry.
Q. Are there snakes or alligators in the canal?
A. No, one of our employees goes out and catches all of the snakes, gators, spiders, and other critters that people have irrational fears about at the beginning of each day. Just kidding. OF COURSE THERE ARE. There are snakes, turtles, muskrats, beavers, otters, cranes, great blue herons, frogs, lizards, skinks, spiders and a variety of other wildlife that call the canal and it's surrounding areas their home. While alligators have been spotted in the canal, your chances of seeing one of those are actually pretty slim, as they don't make it this far north on the river and/or up canal often, but it's not exactly unheard of.
Q. Are pets allowed?
A. Yes, your pet is allowed in both the kayak and the shuttle, if you're planning on shuttling with us. Please bring your dog, we'd love to meet your dog! Or cat if it likes water, or ferret, hedgehog, iguana, mini pony, pig, or whatever other pet you wanna take with you on your kayak voyage.
Q. Is there a shorter route?
A. The boat ramp at Lake Olmstead is the first easily accessible place that we can pick up from. We have faith that you can complete it fairly easily, even if you've never kayaked before and you're not the athletic or outdoorsy type. If you are super unsure of going down the canal you can paddle around our location for a bit to get comfortable with it before going down. Once you make it about 100 yards down from our location, Reed Creek comes into the canal and it becomes very difficult to make it back up from that point.
Q. Can I just paddle back up?
A. You can and we won't stop you from trying! Honestly it's not that hard to make it back up MOST of the canal. It's not until about a quarter mile down from our location that it gets rather intense, to say the least. The reason for this is because a creek comes into the canal just down from our business/ launch point, and that creek makes it rather difficult for that last stretch, but not exactly impossible. We are, however, going to go over the route with you anyway, just in case, because most people that try this change their mind…
Q. Is alcohol allowed?
A. Alcohol is not allowed in the Columbia County operated Savannah Rapids Park, which is where our business is located in. Also, per the city of Augusta, which maintains control and ownership over the canal, it is also not allowed on the canal or towpath. We really enjoy our business and want to follow the rules set by the city and wonderful people who make our business and jobs possible 🙃
Q. Is there a weight limit?
A. The weight limit for our biggest single Kayaks is 280lbs, the weight limit in our tandem Kayaks is 450lbs; the weight limit for the paddleboards are 250 lbs. It is important to note, however, that the more weight you add to a kayak the more likely the kayak is to tip over. If you are over 280lbs please let us know and we can *try* to put you in one of our smaller tandems for more safety and comfort, however depending on weight we cannot guarantee that we can get you on the water.
Don't forget to like and follow us on Facebook (HERE) and share those pics with us on Instagram (@savannahrapidskayakrental)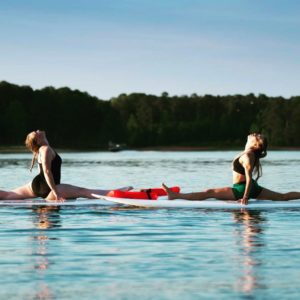 Looking for something different?! Rent a Jet Ski or try out a paddleboard yoga class with Keg Creek Watersports! Check out kegcreekwatersports.com for pricing, directions, and other info!