Rates & Routes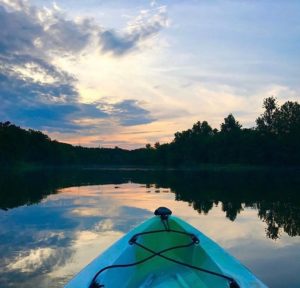 KAYAK RENTAL RATES:
| | | |
| --- | --- | --- |
| KAYAK RATES | Weekday | Weekend |
| · Single | $25 | $30 |
| · Tandem | $35 | $40 |
| · Stand-up Paddle boards | $30 | $30 |
| · Shuttle (military and kids 15 & under free) | $5 | $5 |
| · Shuttle w/ personal kayak | $10 | $10 |
| Price is per trip- up to 4 hour rental limit or last shuttle/ close- whichever comes first | | Guided Paddles- Add $10 per person |
· Kids and military shuttle back for free
· Paddles, lifevests, whistles are included in price
· Shuttle price is per person; there are no discounts on personal shuttles 
· You may want to stage a second car at the boat ramp at Lake Olmstead to avoid shuttle price
Group Rates available on Weekends. Our group rate is $5 off each kayak and applies to any group that rents 5 or more Kayaks! We encourage large groups to fill out waivers ahead of time, download one HERE
>>>>>CLICK HERE TO RESERVE YOUR BOATS NOW<<<<   WE HAVE MOVED TO ONLINE BOOKING!!                *You will be charged a $5 deposit per kayak at the time of booking, which will go toward the price of your rental bringing each boat down $5 when you pay your remaining balance due upon arrival for your reservation. You must reserve at least 2 hours prior to the time you'd like to come. Deposits are refundable if you cancel 12 hours or more in advance or in the event of inclement weather. If your confirmation email does not show up in your inbox, check your junk mail folder! If you'd like to do any route other than the canal, please note that in the comment section when reserving your boats!
RENTAL HOURS: 
Every Day from 9am to 3pm; last shuttle at 5pm
Walk up business accepted from 10am to 2:30pm                       if/when we have boats available!
Extended hours on Saturdays with our new Sunset Session! Reserve your boats anytime from 4:30pm to 5:30pm with shuttle pick ups on the hour at 7pm and 8pm!
RESERVATIONS NECESSARY SO THAT WE MAY PROPERLY STAFF EACH DAY WHICH IN TURN HELPS US PROVIDE BETTER CUSTOMER SERVICE FOR YOU AND PUTS LESS STRESS ON OUR EMPLOYEES!
OPEN YEAR ROUND
Inclement weather and off season (September through March) – Please reserve 24 hours in advance
If you have a group renting 10 or more kayaks and are interested in coming outside of normal business hours, give us a call and we can try our best to accommodate your group! We have over 60 kayaks, both single and tandem kayaks, and can accommodate large groups such as family reunions, company outings, etc as long as we have proper notice!
FYI: Week Day pricing is cheaper because you get the full experience of kayaking, which sometimes means helping get your kayak to the water, the possibility of not having someone at the end point to assist you in getting out of your kayak, or even helping load your kayak onto the trailer! We'll let you in on a little secret, though: the week days are not as busy and therefore much more peaceful and enjoyable. Don't worry, you can thank us by helping 🙂
Never kayaked before? Please consider watching this instructional video from our manufacturer, perception, for some great tips on how to get started!  >>click here to watch perception kayaking basics video now<<
>>>>CLICK HERE TO RESERVE YOUR BOATS NOW<<<<
PADDLE OPTIONS:
The Canal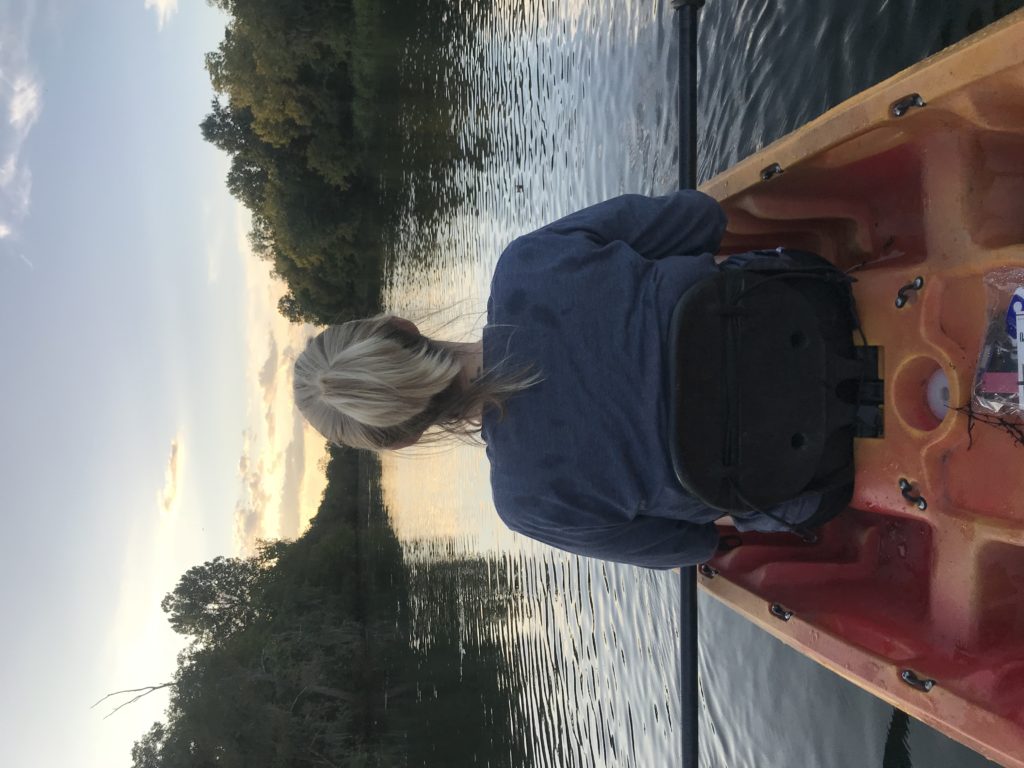 · Paddle the Historic Augusta Canal down to the Lake Olmstead boat ramp where we meet you. This route is our most common route, it is roughly 5 miles long and generally takes people about 2 hours. The nice, mellow current of the canal makes this route perfect for beginners with no rocks or rapids, just a nice easy float down to the turn into Lake Olmstead where you then paddle across the flat water of the lake to the boat ramp at the far end of the right hand side of the lake. We pick up our Kayaks free of charge; shuttle price is $5 and is per person. Shuttle is always free for military (both currently serving or former) as long as they show their military ID; shuttle is also free for kids 15&under. You can always avoid the shuttle price if you drop a car off at the Lake Olmstead boat ramp, the address is 2200 Broad St, Augusta, Ga, 30904 and there is a gravel lot right alongside the canal and a paved trail; just a friendly reminder- don't forget your keys to the vehicle you park at the endpoint! Another fun way to avoid the shuttle price is by biking! Bike up to our location from the endpoint if you have your own bike and we will bring it back down to you, or rent a bike from The Bicycle Peddler located just up from us in the Savannah Rapids Park and we will have it waiting for you at the endpoint and you can ride it back up!
Stalling's Island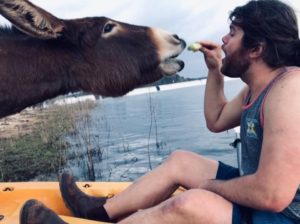 · Paddle above the Locks up to the Steven's Creek Dam and around Stalling's Island to see the donkeys and goats! This route is ok for beginners, but if you've never kayaked before please let us know so we can have you paddle around for a minute or two before going above the locks. It is not dangerous, unless you DO NOT PADDLE AT ALL, and then there is a major risk of being pulled through the locks that move water into the canal through several big tunnel like things (aka locks) which is inherently dangerous. We don't want that and trust me, neither do you! While it's not as lazy as floating down the canal, the little work it takes to paddle against the current is worth every bit of it for the views, peacefulness, and of course, the donkeys! It's also a totally awesome and unique way to see the river from above the spill way- from a safe distance of course! When you're done exploring just come on back to the spot where you got in at, while keeping a safe distance away from the locks, cause, remember, inherent danger, stay away! Did we mention that before? On week days you may be responsible for getting your kayaks to and from the put in/ take out spot which is about a quarter mile up from where our business is set up but still inside the park- we do have a cart to make this process easier though! If you would like to paddle this route, please ensure everyone in your party has paddling experience and note "Stallings Island" in the comment section when making your reservation!
The River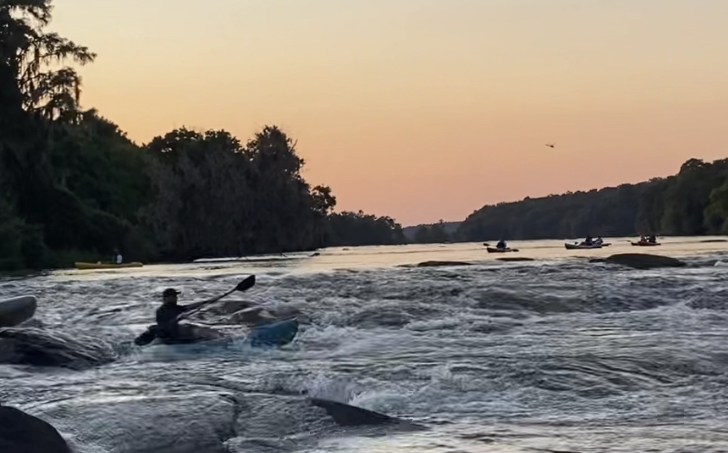 · More experienced paddlers may want to try the Savannah River down to the North Augusta Boat Landing (Depending on water level). Unfortunately due to the navigation needed to make it through some rather tight little rapids and over some rocky and shallow areas, we do NOT allow our Tandem Kayaks in the river. Since the river is a bit more dangerous than the canal, but totally fun, we like to use the buddy system in the case of an issue, so make sure you have your buddy, or buddies, before planning to kayak down the river! Your buddy is also gonna be handy while you're getting Kayaks across the bridge, down the stairs and to the dock along the river! The optimal water level we like to see is between 6,000 cfs and 12,000 cfs. If the water level is running below 6,000 cubic feet per second(cfs), we will not allow our kayaks on the river cause it's just a bit too low and they take on a lot of damage scraping and dragging over all the rocks; the river may also be dangerously high (over 12,000 cfs), in which we will not allow people to rent kayaks for the river because, while we appreciate some swift current and fun rapids, anything over 12,000 cfs is just dangerously high; it submerges practically all of the rocks and you're more likely to get swept through trees that would otherwise be on land where they belong.  Feel free to check the water level yourself at http://waterdata.usgs.gov/nwis/uv?site_no=02197000 if you're interested in venturing down the river- this route typically takes people 2 and a half hours to 4 hours to complete! We do require groups wanting to do the river to have their own transportation for themselves and the kayaks back from the end point as we are often just a bit too busy to make it over to the North Augusta boat ramp- however if this is not a possibility we can make exceptions if you come between 12:15pm- 1:30pm on week days or almost anytime on weekends when we have 2 or 3 shuttles running! If you would like to paddle this route, please ensure everyone in your party has paddling experience and note "River Route if possible" in the comment section when making your reservation- then cross your fingers and hope that the water level is good the day you'd like to come 🤞!
We also have guided river tours as well as moonlight paddles once a month, as well as other events happening daily!  Click Here for special events calendar! 
LOOKING FOR SOMETHING A LITTLE MORE EXHILARATING?? Rent a jet ski at our second location inside the Wildwood Park! Learn more at Kegcreekwatersports.com